Research & Teaching Interests:
Sustainable Agriculture
Education:
MS Clemson University 2001
BA UNC Chapel Hill 1974
AAS CPCC 1981
Teaching:
SD4200, SD3100, SD3125,SD4125,SD3900
Background:
Chip Hope is a North Carolina born and bred organic farmer and teacher. Most recently, he created, and is currently managing the Sustainable Ag AAS degree program at WPCC in Morganton, NC where he is also the Deptartment Head of Engineering. For many years, Chip has owned and operated Appalachian Seeds Farm and Nursery specializing in growing and selling organic heirloom plants and heritage breed livestock. He is currently building the latest ideration of the dream family homestead farm in Collettsville, NC.
Representative Publications:
Zehnder, G., Hope, C., Hill, H., Hoyle, L., & Blake, J. H. (2003). An assessment of consumer preferences for IPM-and organically grown produce. Age, 18(25), 26-35.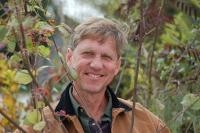 Title:

Farm Director
Department:

Sustainable Development

Email address: Email me

Phone: (336) 977-1773
Office address
SD Farm