Sustainable Development Farm and Gardens
About the Farm
Throughout the Sustainable Development Teaching and Research Farm, sustainable technology is integrated amongst sustainable agricultural methods practiced in the fields and forests. Multiple departments utilize this community space and work together to preserve, restore and manage this land sustainably. Several years ago, the Appropriate Technology program and the ASU Renewable Energy Initiative installed photovoltaic and thermal solar panels on the resident farm manager's house, making it almost completely solar-powered. Most recently, this same collaboration along with ASU Dining Services has been responsible for building a new high-performance greenhouse at the farm. We have many collaborations with many other departments and programs across the campus including, Nutrition, Nursing, Art, Honors College, ROTC, STBE, and others.
The farm is located off-campus in neighboring Ashe, county. This farm offers a unique space for students to advance both scientific and social theory being taught throughout the department. The farm is a living laboratory where multiple classes are held throughout the year for students to immerse themselves in a local, mountainous landscape, and learn collectively about the holistic nature of sustainable farming.
The farm includes a heritage garden, an apple, paw-paw, pear, cherry, and a hybrid Chestnut research orchard, integrated livestock, diverse vegetable operations in the field and in greenhouses, fungi culture practices, seed saving practices and so much more. The majority of the food produced on the farm goes to the University Dining Halls. What doesn't go there is donated to the Campus Food Pantry and the Boone Hunger and Health Coalition. It's students producing food for students and also helping to reduce food insecurity and inequality in our community. The majority of food is produced for students in the dining halls. Seeds saved from our historic heirloom crops are packaged and donated to the Ashe and Watauga Seed Libraries for community use.
Recently, a handful of students and faculty have been working to ground an even more sustainable development curriculum in this place-based setting. The App State farm is a place of community knowledge, production, and sharing.; contributing to the sustainability of this region through the conservation of land, biodiversity, and culture.
"The new farm provides much greater opportunity for crop and livestock teaching and research, and we can also add additional activities in sustainable forest management, which is important as many folks around here harvest only through clear-cutting,"

-Christof den Biggelaar, associate professor of sustainable development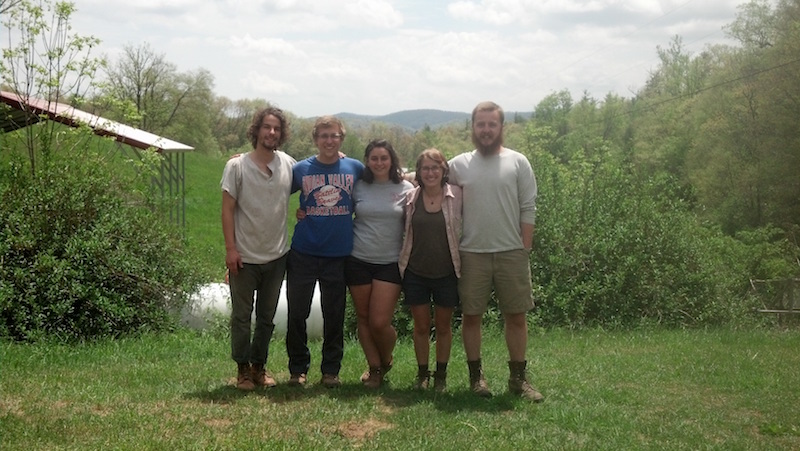 2014 SD Farm Residents (left to right): Daniel Mickey, Tony Randolph, Morgan Batts, Ellen Beatty, and Kaleb Shulda-Haddad