Research & Teaching Interests:
Jim's program areas of expertise include Latino farmworker safety, forest landowner education, and forest farming of ginseng. He will be teaching SD 3150- Soils and Soil Fertility Management.
Background
Jim is the Watauga County Extension Director for NC State Cooperative Extension. He was an agrofrestry extension agent and trainer with the Peace Corps in Paraguay and served as an Asst. Professor and Extension specialist at Alabama A&M University and as an instructor and Forestry Program Coordinator at Haywood Community College.
He holds a PhD in Forestry from NC State University, and MS in Forestry from Auburn, and a BS in Anthropology and Natural Resources from the University of the South, Sewanee.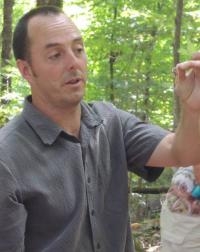 Email address: Email me
Phone: (828) 262-2881
Office address
209 Living Learning Academic