Teaching & Outreach Interests
environmental and sustainability science, ecology, freshwater ecosystems, watershed science, terrestrial-aquatic linkages, community-based watershed conservation, environmental and sustainability education, climate outreach and engagement
Education
M.S. Ecology, University of Georgia, 2003
Graduate Certificate in Conservation Ecology & Sustainable Development, University of Georgia, 2003
B.S. Environmental Science & Ecology, North Carolina State University, 1998
B.S. Multidisciplinary Studies: Art & Values in a Technological Society, North Carolina State University, 1998
Teaching
SD 2610 Science for Sustainability
SD 3610 Issues in Environmental Sustainability
SD 3675 Outreach Skills for Sustainability
SD 2535 Climate Responses & Response-Ability
SD 3533 All We Can Save

SD 3534 Watershed Protection
Background
Laura joined the SD faculty in 2010 after seven years as an outreach professional in the non-profit sector. She brings that experience to her teaching and ongoing outreach work as a Practitioner in Residence. Much of her current work focuses on growing a more productive climate conversation on our campus and beyond as well as empowering climate engagement. Laura has played a leadership role in long-term efforts to expand climate literacy education at Appalachian. In her former work as Outreach Programs Director for Wisconsin Wetlands Association, Laura developed programs with a variety of partners and audiences, from wetland scientists and consultants, to developers and municipal government officials, to school teachers and children. This work, which has been continued by her colleagues, was honored with the 2012 Wetland Conservation Award by the International Ramsar Convention on Wetlands for the organization's outstanding achievements in the area of wetlands education. Laura has also been deeply involved in the non-profit sector as a volunteer, serving on seven non-profit boards with a focus on community-based watershed work and environmental education. Laura is an NC-certified Environmental Educator and in her spare time enjoys soaking up this beautiful Appalachian setting with her husband and two children and belting out bluesy tunes.
Selected Outreach Projects
Climate Responses & Response-Ability: Laura is co-facilitating a cross-campus team of faculty who are piloting a climate literacy curriculum focused on preparing and empowering students as future professionals and citizens to contribute to climate solutions.
Elevating Climate Conversations: Inspired by the All We Can Save Project, Laura coordinated three classes of SD students and some talented alumni (Sydney Blume, LuAnna Nesbitt, and Jessica McClelland) to co-create this website full of stories and resources to inspire and empower climate engagement.
Climate Stories Collaborative: Laura founded and is co-facilitating this initiative, which is designed to grow the capacity of faculty and students across the university to use a variety of creative media to tell the stories of those who are already affected by, and/or taking action to address, climate change.
Emblems of the Anthropocene: Inspired by Elizabeth Kolbert's 2015 Pulitzer Prize winning The Sixth Extinction: An Unnatural History, Laura and her students are writing about the biodiversity crisis. Each of their narratives, like Kolbert's chapters, focuses on the story of an emblematic species--one whose story can help us understand the broader biodiversity crisis and our connections with it.
Watauga High School Rain Garden: Laura coordinated a community partnership to install and maintain a rain garden on the Watauga High School campus. Partners include representatives of Appalachian State University, Watauga High School, Watauga River Partners, NC Cooperative Extension, Watauga Soil & Water Conservation District and Mountain Alliance.
Sustainability & Environmental Education Club: As Faculty Advisor for the Sustainability and Environmental Education Club (SEEC), Laura cultivates student leaders, and helps coordinate activities, including programs for community partners (e.g., Kiwanis Kids, Children's Playhouse, Valle Crucis Extended Learning Center) and booths at large community events (e.g., BuildFest, ASU STEM Expo, RiverFest, ASU Trick or Treat for Tots).
Roots of Resilience Film Festival: Cultivating Sustainable Community in the High Country: In the spring of 2017, Laura's Outreach Skills for Sustainability class created mini-documentary films about local people and organizations that are contributing to different aspects of cultivating sustainable community in our region. The class planned and hosted the Roots of Resilience Film Festival in which they screened these films (click link to view the films).
Professional Development Programming for Environmental Educators: In order to increase the capacity for environmental education (EE) in the Southern Appalachian region, Laura coordinated a series of EE professional development workshops. By training public school teachers and non-formal educators (park rangers, nature center staff, non-profit staff, scout leaders, etc.) in environmental curricula and teaching methods, these workshops expand the capacity of educators who will raise the environmental literacy of many school children and citizens of all ages.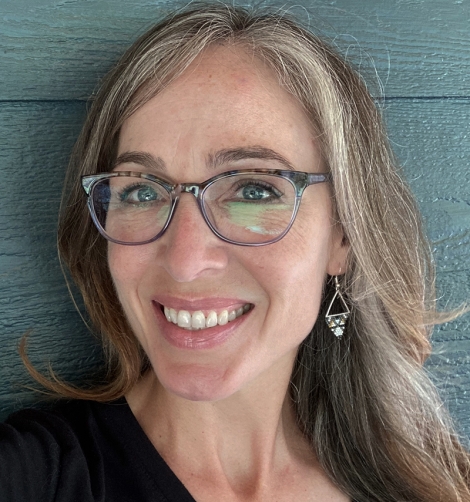 Title:

Practitioner in Residence
Department:

Sustainable Development

Email address: Email me

Phone: (828) 262-7237
Office address
126 Living Learning Academic