Research & Teaching Interests:
Environmental conservation and sustainable development; resource management and tenure relations; dispossession, displacement and resettlement; human-wildlife conflict and multi-species relations; global environmental politics; indigenous and environmental rights movements; gender, identity, and development; landscapes, and place attachments; environmental values, knowledge, and discourses; interdisciplinary, ethnographic and collaborative methodologies; creative engagements in sustainable development; pedagogy for connecting across difference
Education
Ph.D. 2010, Environmental Anthropology, University of Georgia, Athens, GA, USA
B.A. 1998, International Studies, University of North Carolina, Chapel Hill, NC, USA
Teaching
Principles of Sustainable Development (SD 2400)
Conservation and Development (SD 3365)
Gender, Inequality, and Sustainable Development (SD 3475)
Background
As an environmental anthropologist and political ecologist, I am interested in the dynamic relationships, both material and symbolic, between humans and environment, and I position my scholarship and teaching at the intersections between culture, power, environment, and development. My current research focuses on the relationship between rhino poaching and the "slow violence" of protracted environmental displacement in Mozambique's Limpopo National Park. I work with park residents and other contributors, first, to identify the social and material losses residents experience as they await resettlement and, second, to assess how residents respond to and cope with such losses. I am also collaborating with students and colleagues at ASU to develop a program of work on conservation and development in regional contexts. Here and elsewhere our aim is to understand and enable just conservation. By this we mean the enhancement of ecological systems in the face of pressing global change, the well-being and empowerment of vulnerable communities, equity in benefits derived from the environment, and protections for biological and cultural diversity.
Representative Publications
Ekblom, A., M. Notelid, and R. Witter. 2017. Negotiating identity and heritage through authorised vernacular history, Limpopo National Park. Journal of Social Archaeology. 17(1): 49–68.
Witter, R., K. Marion-Suiseeya, R. Gruby, S. Hitchner, E. Maclin, M. Bourque, J. Brosius. 2015. Moments of Influence in Global Environmental Governance. Environmental Politics. (Published online 3 July 2015)
Witter, R. and T. Satterfield. 2014. Invisible Losses and the Logics of Resettlement Compensation. Conservation Biology 28(5): 1394-1402.
Corson, C., R. Gruby, R. Witter, S. Hagerman, D. Suarez, S. Greenburg, M. Bourque, N. Gray, and L. Campbell. 2014. Everyone's solution? Defining and re-defining protected areas through the Convention on Biological Diversity. Conservation & Society 12: 190-202.
Witter, R. 2013. Elephant-induced displacement and the power of choice: Moral narratives and conservation related resettlement in Mozambique's Limpopo National Park. Conservation & Society 11: 406-419.
Hagerman, S., R. Witter, C. Corson, D. Suarez, E. Maclin, M. Bourque, L. Campbell. 2012. On the coattails of climate? Opportunities and threats of a warming Earth for biodiversity conservation. Global Environmental Change 22:724-735.
Russell, D., R. Ashley, J. P. Brosius, R. Witter, M. Welch-Devine, K. Spainhower, and R. Barr. 2010. People, Trees and Parks: Is Agroforestry In or Out? Journal of Sustainable Forestry 29:451-476.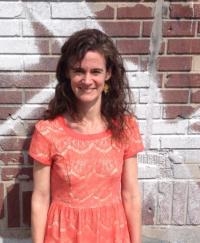 Department:

Sustainable Development

Email address: Email me

Phone: (828) 262-3008
Office address
212 Living Learning Academic