Aurora Figueroa-Benetti's passion for sustainable agriculture led her to Appalachian State University's Goodnight Family Department of Sustainable Development and a relatively unknown fruit – the pawpaw. Now passionate about pawpaw trees and the benefit they can bring to a community, she's planning to plant several on the department's Teaching and Research Farm as part of an independent study.
A New Bern native, Figueroa-Benetti attended community college, then worked on a cruise ship for several years before enrolling at Appalachian.
"Little things opened my eyes to sustainable agriculture," she shared. "I saw the sheer amount of waste on the cruise ship, and then visited my partner in Japan. I fell in love with the community gardens and urban agriculture that are so commonplace there."
After researching programs that focus on sustainable agriculture, she decided on Appalachian and moved to Boone. While taking a silviculture planning course with Ian Snider, a practitioner-in-residence in the Sustainable Development Department, she learned more about agroforestry and all of the benefits a forest provides to the surrounding community. Her final project explored the pawpaw tree, which is North America's largest indigenous fruit. Native to more than half of U.S. states, the fruit is sweet, looks like a mango and has a tropical flavor similar to a banana. Pawpaws are not sold in grocery stores but can be found at farmers' markets during the late summer and early autumn months.
While studying pawpaws, Figueroa-Benetti saw an opportunity.
"The pawpaw is a special tree – it produces an extract that can be used as an organic pesticide, and there's a possibility for that same extract to be used in cancer care, maybe even as an alternative to chemo," she shared. "I was curious about cultivation at higher elevations and in colder climates. Would the pawpaw grow well here? And if so, how can we sustain its best growth?"
To answer these questions, Snider referred Figueroa-Benetti to Susan Owen, who runs Lily Patch Farm. The oldest organic farm in Watauga County, Lily Patch is located in Vilas and is contains the only known pawpaw orchard in the area. Figueroa-Benetti signed on to work with her during spring 2018 as part of an independent study.
While working with Owen, she learned the basics of organic pawpaw production — how to operate an orchard, grafting and starting seeds — along with the fact that pawpaws are also a natural habitat for the zebra swallowtail butterfly.
After spending time with Owen watching her cultivate the pawpaw orchard, she's now ready to plant a few of her own trees at the Sustainable Development Teaching and Research Farm in Ashe County.
"I plan to plant 10 trees this summer, and host workshops that showcase how to use the pawpaw to its greatest advantage once school starts back in the fall."
Snider is pleased with Figueroa-Benetti's work, and is inspired by her goals and sense of self.
"Aurora has used our new courses in sustainable woodland management as a spring board for cutting edge agroforestry work," he said. "She is also a mean axe thrower."
As she prepares to enter her senior year in the fall, Figueroa-Benetti is also looking toward a future in the Peace Corps.
"I think my double major in sustainable development and global studies, along with my knowledge of and experience with sustainable agriculture, have prepared me to work abroad – maybe in Latin America or Nepal," she said. "I want to be where I can best help."
About the Goodnight Family Department of Sustainable Development
One of seven departments housed in the College of Fine and Applied Arts, the Goodnight Family Department of Sustainable Developmentat Appalachian State University prepares students to thoughtfully analyze human development while focusing on the applied practice of pursuing transformative, community-driven development and social change. It offers a Bachelor of Science degree in sustainable development with concentrations in agroecology and sustainable agriculture; community, regional and global development; and environmental studies; as well as a Bachelor of Arts and minor in sustainable development.
About Appalachian State University
Appalachian State University, in North Carolina's Blue Ridge Mountains, prepares students to lead purposeful lives as global citizens who understand and engage their responsibilities in creating a sustainable future for all. The transformational Appalachian experience promotes a spirit of inclusion that brings people together in inspiring ways to acquire and create knowledge, to grow holistically, to act with passion and determination, and embrace diversity and difference. As one of 17 campuses in the University of North Carolina system, Appalachian enrolls about 19,000 students, has a low student-to-faculty ratio and offers more than 150 undergraduate and graduate majors.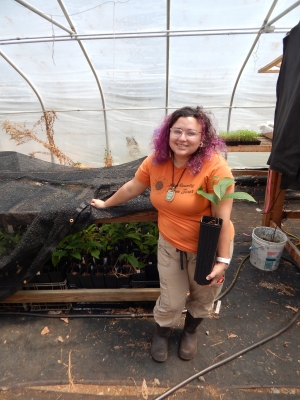 Tags: