By Madalene Smith
Sustainable development major Juan Diego Aguilar is a Colombian immigrant, a scholarship recipient and now fast approaching the end of his career as a first generation college student. A natural scientific mind while in high school, Aguilar was inspired to apply his skills to the environment and sustainability after reading "Ishmael" by Daniel Quinn, a book centered around saving the world through conservation and giving back.
In 2013, Aguilar enthusiastically began his education at Appalachian State University after falling in love on a visit the previous spring.
"I was immediately drawn to the opportunity of studying the environment in the oldest mountain range in the world. The energy of the campus mirrored the day of my visit, it was beautiful snowy March day and my bilingual ambassador guide was super friendly," he shared. I wanted to live in that wondrous mountain escape, I yearned to grow from each frosty breath I would take. That day I pledged to earn a degree from Appalachian State University."Appalachian lived up to Aguilar's expectations and beyond the more he explored everything the university had to offer. He frequented the rock climbing wall and singled it out as one of his favorite amenities. He is particularly grateful for the Sustainable Development Department's garden located at the Living Learning Center. The garden is shared with the campus community and is used as a teaching facility for sustainable agriculture and food systems.
Like many students who are the first in their families to attend college, Aguilar navigated his share of hardships. He wasn't getting enough hours at his job, and paying for heating in the harsh winter was an added strain. Student Support Services (SSS), a program that supports first generation and low-income college students through advising, mentoring and more, provided both counsel and resources to help him succeed. He also received the Goodnight Family and Goodnight Brothers Scholarship in the spring of his sophomore year as recognition for his passion and hard work.
Post-graduation, Aguilar hopes to use what he has learned to tackle challenging work he is also passionate about.
"Through my work I hope to offer assistance to those folks who are unjustly experiencing a disproportionate amount of social and environmental distress due to global climatic changes. I hope to engage in scientifically based work in which I aim to further deconstruct the division between society and nature."
About the Goodnight Family Department of Sustainable Development
One of seven departments housed in the College of Fine and Applied Arts, the Goodnight Family Department of Sustainable Development at Appalachian State University prepares students to thoughtfully analyze human development while focusing on the applied practice of pursuing transformative, community-driven development and social change. It offers a Bachelor of Science degree in sustainable development with concentrations in agroecology and sustainable agriculture; community, regional and global development; and environmental studies; as well as a Bachelor of Arts and minor in sustainable development.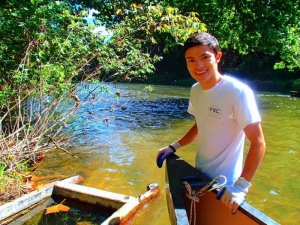 Tags: