About the Farm
A focal point for the Goodnight Family Sustainable Development Department is our Teaching and Research Farm and Agroecology Laboratory located in Fleetwood in nearby Ashe County. Students utilize the farm to enhance their classroom lessons about agroecology, agroforestry, and sustainable farming practices. Results from research on the farm are shared with local community members to encourage sustainable agricultural practice in the region.
The farm is approximately 35 acres of pasture, 130 acres woodlot and woodlands, a large greenhouse, and late-nineteenth century barn.
The SD Department operated a farm for several years on leased land in Valle Crucis to educate students and assist local farmers in researching best practices. Now, thanks to a recent acquisition of 369 acres from the estate of Beulah and Reeves Vannoy, the university moved its operations to neighboring Ashe County in Fall 2011—and faculty and students are excited about the property's significant expansion of opportunities related to sustainable agriculture and agroforestry, forest and watershed management, and livestock production.
"The new farm provides much greater opportunity for crop and livestock teaching and research, and we can also add additional activities in sustainable forest management, which is important as many folks around here harvest only through clear-cutting,"

-Christof den Biggelaar, associate professor of sustainable development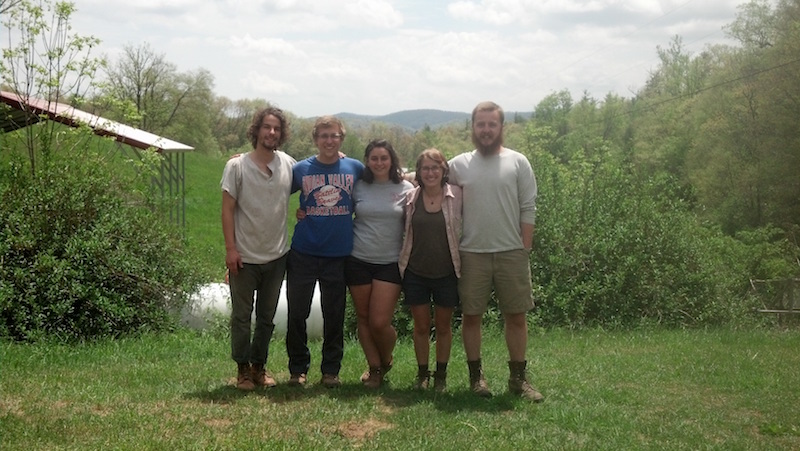 2014 SD Farm Residents (left to right): Daniel Mickey, Tony Randolph, Morgan Batts, Ellen Beatty, and Kaleb Shulda-Haddad
Learning on the Farm
The Sustainable Development Teaching and Research Farm is a student and faculty-powered operation that offers students an opportunity to immerse themselves into a living lab. The goal of the SD Farm is to become a multi-purpose, integrated farming system that produces healthy food, fiber, and other raw materials that can be cultivated successfully on a small scale.