Building Diverse Community Networks to Grow the Local Food Economy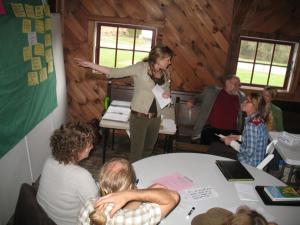 The High Country Local Food Summit is coordinated annually by the Goodnight Family Sustainable Development Department at ASU. Strategic outreach efforts such as this demonstrate the Sustainable Development Department's commitment to collaborating with and supporting local community efforts. The Summit is not possible without the generous financial support of the Harold and Mazie J. Levenson Fund for the Environment.
At the Summit participants share their knowledge in order to develop a visual model of the High Country local food system. This model highlights the strongest parts of the system; illustrates the linkages between the arenas of production, consumption, distribution, and recycling; and creates opportunities to strategically identify action-oriented initiatives.