Interested in studying Sustainable Development?
We're glad you're considering attending Appalachian State University and majoring in Sustainable Development. The Department of SD offers both a B.A. and a B.S. with three different concentrations:
Along with the exciting curriculum we offer students, the Appalachian State sustainability community gives students the opportunity to get involved in student organizations related to Sustainable Development. Each student organization is involved in variety of events including bringing guest speakers who are professionals in the field, having opportunities to network and engage in the community, and, of course, having fun and fellowship with classmates and community members.
Where to Begin?
If you're wanting to find out more about the SD Department, you have two options: if you're wanting to explore on your own, use the links at the top and left side of the page. If you're the structured, get-to-the-point type, use the links below to go straight to the areas we think you'll find most useful.
SD Scholarship Opportunities and Fellows Program
Why SD?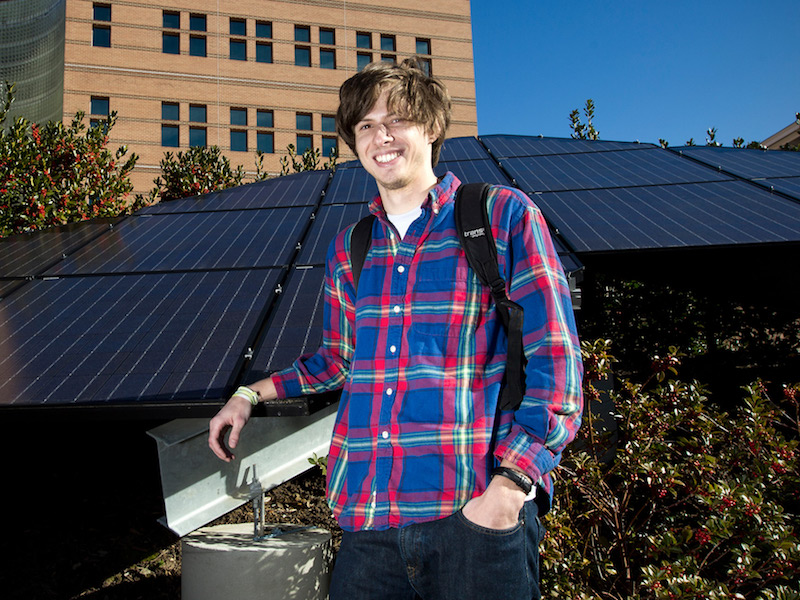 Patrick McGuire, Class of 2012 Sustainable Development Major from Charlotte, NC
Discovering a fresh perspective on learning
Patrick McGuire was drawn to Appalachian by its mountain setting and small class sizes. Once here, he gained a broader understanding of the unique learning opportunities offered at the university.
This began when he discovered a love for gardening, which developed into a greater reverence for the environment. "My hobby became a passion, and you should major in your passion," he says. So Patrick became a Sustainable Development major, and he found the department's cross-disciplinary approach to education refreshing.
"It's really wonderful. I learn about sustainability in many classroom settings, and it has broadened my appreciation for other subjects."
-Patrick McGuire, SD Major